New Representation–Studio Gallery Australia
WAVE is the first exhibition for the BSA Exhibition Space for 2018 and kicks off another great exhibition calendar with an explosion of colour. Local artist, writer and curator Brent Hallard has pulled together some of the best artists currently working in hard-edged abstraction in Australia.

"All artists' practice 'wave' at the icons of Abstraction, while making deeply personal and invigorating work", says Brent, "they all have a common interest in the potency of reductive practice and colour nuances, not to mention a love for the Northern Rivers area itself!"

You can hear the passion Brent has for the contributing artists as he describes their work. Suzie Idiens' surfboard-like surfaces, with their nuanced colour and elegantly simple sculptural forms play with the physical impact colour can have on us. And Peter Burgess' 'simple wordplay activates an almost mediative state of mind where meaning loses its duality through the interaction of colour of the word and its background.' The exhibition also includes artist, musician and filmmaker Kyle Jenkins, whose conceptual focus 'waves at' abstraction for its unadulterated simplicity, while using colour that engages the viewer at the purely retinal level. And finally, Emma Coulter's bold and bright 'spatial deconstructions' work with 'the idea of interactivity where the architectural elements become part of the sculpture'.

"This is one show we really want people to come and celebrate with us on opening night. We are so excited to have these artists show in the space as they each bring an approach to painting that isn't often seen in the area" says BSA Project Coordinator, Meredith Cusack "We'll be launching our 2018 exhibition program as well, so people will get a chance to see what else is coming up".
Adrian Zuniga, Assistant Director for Galleri Urbane, selected 9 artists from around the country to exhibit. With his own history as a painter, Zuniga is interested in presenting a survey of the current state of this time-tested medium and its significant presence in our contemporary art climate. Through a wide variety of style, content, and medium, the paintings in Here & Now will provide just that.

Artists in the exhibition include:
Matthew Craig
Brent Hallard
Lindsey Landfried
Lori Larusso
Melinda Laszczysnki
Danny Rose
Keith Allyn Spencer
Loring Taoka
Michael Wille
Bite
2014
acrylic on 300 lb
Arches,
14 x 14 in.
co-curated by Mary Judge and Enrico Gomez
Nancy Baker, Richard Bottwin, Jaynie Crimmins, Mila Dau, Edoardo De Falchi, Ellen Hackl Fagan, Joan Grubin, Brent Hallard, Karen Margolis, Lael Marshall, Alex Paik, Gary Passanise, Sylvia Schwartz, Lawrence Swan, Austin Thomas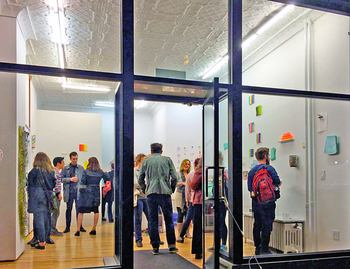 May 15 - June 14, 2015 Opening reception: Friday May 15th, 6-9pm
Volume 1
is one bookend
of a two-part exhibition exploring the ways in which artists respond to paper and transform it from the 2
dimensional into the 3 dimensional in innovative and engaging ways.
On the highway of art, paper as an organic and primary material has a long and noble history; the word 'paper', derived from papyrus, was used by the ancient Egyptians, Greeks and Romans but is only one of the predecessors of paper, collectively known by the generic term 'tapa', indicating the inner bark of the mulberry and fig tree. Paper, as we know it today, traces its roots back to China circa AD 100. The craft of papermaking spread throughout the world and remained a relatively small-scale, artisan activity until its industrialization during the 19th century.
In our show Volume 1, our artists expand on the manifold aspects of this ancient media adding a new chapter to its rich history. Working with paper is primary for our artists who use it as a central part of their practice. It can be said that the use of paper today is often a rejection of the conventional hierarchy that privileges painting and sculpture over other visual media. To choose paper is a bold challenge to that convention, a political choice, which focuses our attention on a humble and often times discarded material and on the preconceptions we bring to ideas about the "value" of materials in art.
For our artists, paper is a serious play tool, a material like the mud puddle of our youth, where we can connect without overthinking. The reasons our artists use paper are as varied and personal as each individual: "it is portable", "it is intimate", "folding and tearing is meditative", "it is spontaneous and non precious", "it is alive, breathing, shrinking and expanding", "it can be transformed easily and quickly; it's the blankest of slates".
Schema Projects 92 St Nicholas Ave between Hart and Suydam Brooklyn NY 11237
FEBRUARY 21 - APRIL 4, 2015
Opening Reception: Saturday, February 21, 4 - 6:30 PM
Brent Hallard's works manipulate space and perception using simple arrangements of geometric forms. Yet, Hallard also strives to keep his work grounded and "push against the more pure concerns of abstraction" by incorporating humor and 'everydayness'. In turn, his works assume a playful ambiguity, which is compounded by his use of bright colors.
Brent Hallard has recently participated in Hard-Edge Abstraction Richard F. Brush Art Gallery, St. Lawrence University, New York; KOBE Biennale 2011, Kobe, Japan; Sugarmountain 2, Galerie van den Berge, Goes, NL, curated by Clary Stolte; Gifting Abstraction, Soho20 Chelsea Gallery, NY, NY, curated by Mariángeles Soto-Díaz; 1st International Festival of Non-Objective Art Pont de Claix, Grenoble, France; Plane Speaking McKenzie Fine Art, NY, NY, curated by Valerie McKenzie; Informal Relations Indianapolis Museum of Contemporary Art (IMOCA), curated by Scott Grow; and Recent Movements in Non-objective Art Reuten Galerie, NL.
Paintings & Works on Paper
STEVEN BARIS
ROB DE OUDE
EDGAR DIEHL
GABRIELE EVERTZ
KEVIN FINKLEA
ENRICO GOMEZ
BRENT HALLARD
GILBERT HSIAO
GRACIA KHOUW
JOANNE MATTERA
MEL PREST
DEBRA RAMSAY
Pentimenti Gallery is pleased to announce a group exhibition, Territory of Abstraction. The show will be on display from February 21, through April 4, with an opening reception on Saturday, February 21, from 4 - 6:30 PM.
Territory of Abstraction will feature the work of twelve artists that share an interest in geometry, color, pattern, and repetition. Yet, despite the material and optical similarities each artist approaches their work with a distinct purpose and context, commenting on a variety of subjects such as architecture, space, psychology, and illusion. When put together their work showcases the expansive nature of contemporary abstract art, and the potential content of relatively simple forms.
GALLERY HOURS: Tuesday by appointment, Wednesday - Friday: 11 AM - 5 PM, Saturday: noon - 5 PM.
Pentimenti Gallery features content driven contemporary art which challenges traditional materials and aesthetics by a line of internationally established artists alongside young talent. For more information contact the gallery at +1(215) 625-9990, mail@pentimenti.com, or visit www.pentimenti.com
Organized by Brent Hallard & Don Voisine, text by Joan Waltemath
Alan Biltereyst | N. Dash | Linda Francis | Anette Haas | Brent Hallard | Gilbert Hsiao | Prajakti Jayavant | Kyle Jenkins | Tarn McLean | Mel Prest | Zachary Royer Scholz | Bret Slater | Dean Smith | Tim Stapel | Kirk Stoller | Richard van der Aa | Don Voisine | Joan Waltemath
Doppler Shift – Visual Arts Center of New Jersey
Doppler Shift is curated by Mary Birmingham.
The exhibiting artists are: Steven Barris, Richard Bottwin, Rob de Oude, Edgar Diehl, Gabriele Evertz, Kevin Finklea, Enrico Gomez, Brent Hallard, José Heerkens, Gilbert Hsiao, Gracia Khouw, Sarah Klein, Stephen Maine, Joanne Mattera, Gay Outlaw, Mel Prest, Debra Ramsay, Albert Roskam, Karen Shifano, Iemke van Dijk, Henriëtte van 't Hoog, Ruth van Veenen, Don Voisine, Nancy White, Guido Winkler and Patricia Zarate.
Opening times:
Monday - Friday 10:00 - 17:00h, except
Thursday: 10:00 - 20:00h
Saturday and Sunday 11:00 - 16:00h
Doppler Shift
Visual Arts Center of New Jersey
68 Elm StreetSummit, New Jersey, NJ 07901USA
The Richard F. Brush Art Gallery at St. Lawrence University
Canton, New York
Hard-Edge Abstraction: Painting and Works on Paper
January 20 - February 22, 2014
Josef Albers
Richard Anuszkiewicz
Herbert Bayer
Ilya Bolotowsky
Allan D'Arcangelo
Kasarian Dane
Matthew Deleget
Gabriele Evertz
Ben Grant
Brent Hallard
Bridget Riley
Richard Roth
Jack Youngerman